The UNC Charlotte Student Union originally opened its doors in 2009 as the community center of the University. On any campus, the union serves students, faculty, staff, alumni, and visitors. It provides services and conveniences that members of the college community need in their daily lives and creates an environment for getting to know and understand others through formal and informal associations.
It was renamed the Karen A. Popp and Demond T. Martin Student Union in 2016 to honor the dedication and service of two extradordinary alumni, Karen Popp ('80) and Demond Martin ('97).
Both governed the student body, are Alumni Award recipients, and have led successful careers. Their generous gifts helped launch the University's capital campaign, "EXPONENTIAL: The Campaign for UNC Charlotte."  
Specifically, we envision that the Popp Martin Student Union will:
Be an integral part of the educational mission of the university by complementing the academic experience through an extensive array of programs, student employment, and leadership development opportunities.
 Be a student-centered organization that values participatory decision-making.
Provide state of the art meeting, gathering, office, community, and study space equal to or better than other excellent institutions.
Support a diversified array of programming that reflects the needs of the campus community in order to enhance educational, cultural, and developmental social interaction.
Provide a welcoming environment that is the center of campus life, due to its location, programming, and general accessibility to all members of the UNC Charlotte community.
Serve as a unifying force that honors each individual and values diversity.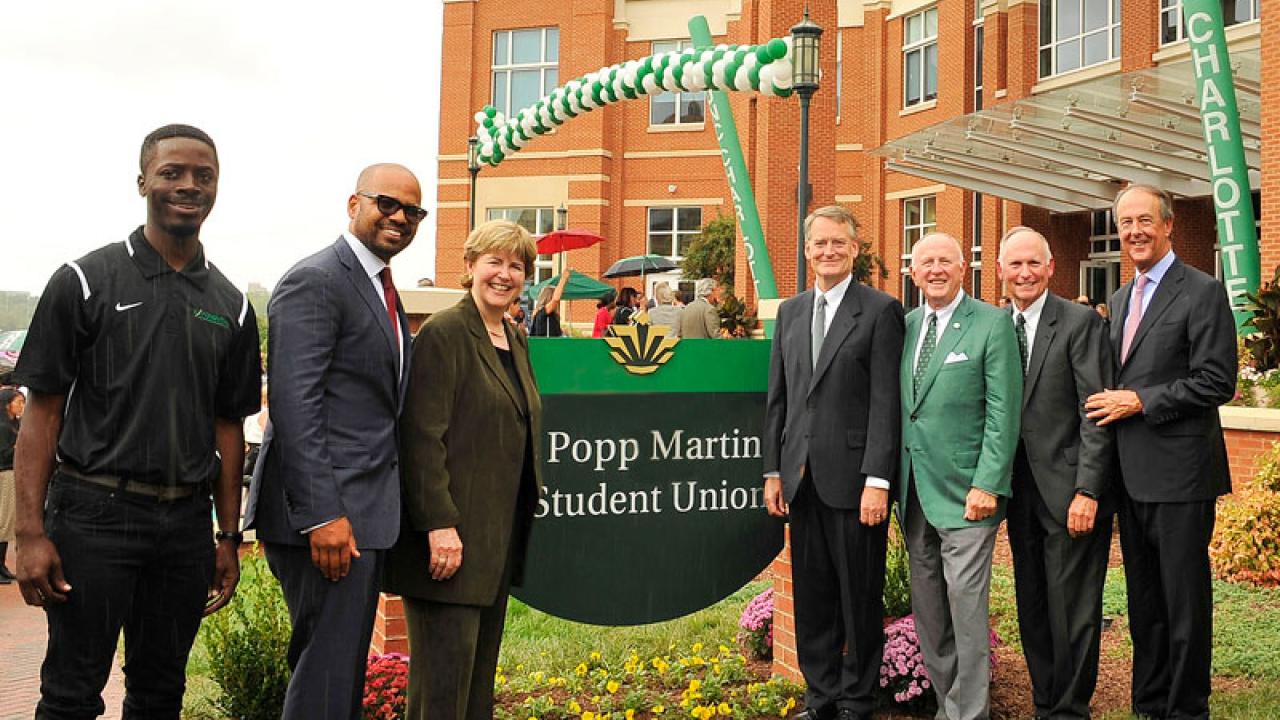 The renamed Karen A. Popp and Demond T. Martin Student Union was unveiled at the Sept. 22, 2016 capital campaign kickoff during the weeklong Founders Celebration. Pictured above (left to right): Fahn Darkor ('17), Student Body President, 2016-17; Demond T. Martin ('97), Karen A. Popp ('80), Joe Price ('83), Gene Johnson ('73), Chancellor Emeritus Philip L. Dubois; and Erskine Bowles.